Jackie Fraser-Swan is a designer that has come a long way from her first presentation at Mercedes Benz Fashion Week in Spring 2012. However, as a developing designer, sometimes I find that she incorporates too many elements in a collection. I want to quote Coco Chanel's "Before you leave the house, look in the mirror and remove one accessory," only in this case, remove one trend.
Solid purple contributed to the success of some of Fraser-Swan's strongest looks. I loved the top look, the Katy, with ivy-patterned, lazer-cut leather balancing a full chiffon skirt dappled with ivy leaves. As a leather jacket, detailed sheer dress, or cocktail dress, this ivy pattern was stunning. The headpieces were not so striking.
For much of the rest of the line, it was difficult to not view Emerson as a junior collection, not surprising considering her inspiration of a garden party crashed by punk rock kids. From her choice of patterns to the cuts, the styling, and choice of models, it had a very youthful feel. The neon shoes also said "punk rock kid," but struck me as awkward in the collection as a whole.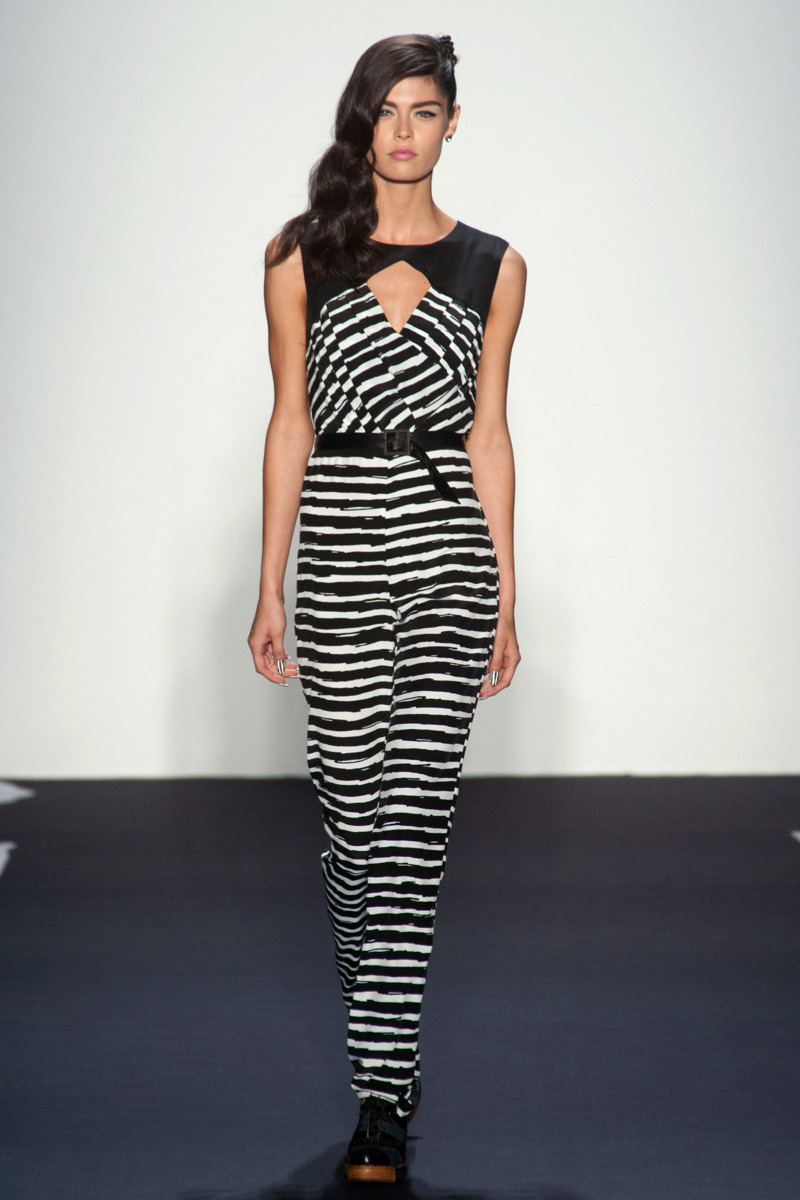 The designer focused on custom design prints, and when delivered right, revealed her great potential. Fraser-Swan's
Garden Gate
pattern brought a pop of neon floral to spring. Hand-painted zebra and houndstooth prints with fine tailoring could and did make a rocking jumpsuit. Her favorite flower, Allium, made a whimsical fun graphic pattern, but didn't need to be echoed in a large headpiece.
Overall, there are many bright points in the Emerson collection, and when fine-tuned in seasons to come, will prove Jackie Fraser Swan can absolutely get it right.
All photos from
The Cut